In My Mailbox is and idea from
The Story Siren.
IMM is a meme in which I post the books and/or swag I won, received, for review, bought, borrowed, or etc.
June is over and I'm late with the IMM but here I am. My camera is not working well so instead of taking pictures of the covers of the books I take the covers online.
I will divide the post into two parts, the first of it I will show you all the books in Spanish and the second all the books in English.
All books showed have been received from the respective publishers (except two that have been received from a contest and a meeting) so thanks to each for shipping.
Spanish books: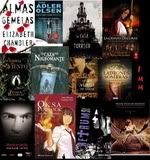 Summary: titles, genre and publisher:
Almas gemelas

by

Elizabeth Chandler

(YA- publisher Planeta)
La mujer que arañaba las paredes - Departamento Q by Jussi Adler-Olsen (Thriller - publisher Maeva)

La casa del Torreón

by

Isabel del Río

(YA - publisher La Galera)
Lágrimas oscuras - Trilogía amazonas #1 by Arthur de Jeuffosse ( a gift from other bloggers)

El nombre del viento

-

Patrick Rothfuss

(won in a contest on the blog moi@mi vida sin libros)
La caza del nigromante - Antonio Martín Morales (fantasy - publisher everest)

Lo que nunca te conté

by

J.M. Aguilar

(thriller - publisher Suma de letras)
Los ladrones de sombras - Las crónicas de cronos #1 (YA - publisher Everest)

Muerto en familia

- Sookie Stackhouse #10 by

Charlaine Harri

s

(paranormal-vampires - publisher Suma de letras)
Oksa Pollock y el descubrimiento de Edefia #1 by Anne Plichota & Cendrine Wolf (YA-fantasy- publisher planeta)

Retrum 1

by

Francesc Miralles

(YA- publisher la galera)
Pedacitos de muerte by Eduardo Fánegas de la Fuente (death - publisher anubis)
english e-books:

Summary: titles, genre and publisher:
A line in the ice

by Jamie Craig (fiction - Carina Press)
Ashes by Ilsa J. Bick (YA adventures - Egmont USA)

Break out

by

Nina Croft

(Sci-fi romance vamps - Entangled publishing)
Cinder and Ella by Melissa Lemon (Fantasy - Cedar Fort)

Cold Vengeance

by

Preston and Child

(thriller - Grand central publishing)
Deviant by Adrian McKinty ( YA mystery - Abrams)

Falling Skies

by

Paul Tobin

(Comic - Dark Horse Comics)
The craigslist murders by Brenda Cullerton (Crime - Melville House Publishing)