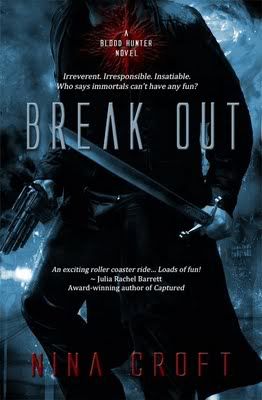 ⇒

Title

:

"Break out"

⇒

Author

:

Nina Croft

⇒

Series

:

Blood hunter

#1

⇒

Published

:

July 2011

.

⇒

Publisher

:

Entangled publishing

⇒

Amazon link

:

Amazon Break out

⇒

ISBN

:

978-1-937044-04-6.

⇒

Genre

:

sci-fi, romance, vampires.

⇒

Price (Amazon)

:

3.44$.

⇒

Price (Booksonboard)

:

0.94$.
Synopsis
The year is 3048, Earth is no longer habitable, and man has fled to the stars where they've discovered the secret of immortality—Meridian. Unfortunately, the radioactive mineral is exorbitantly expensive and only available to a select few. A new class comprised of the super rich and immortal soon evolves. The Collective, as they're called, rule the universe.

Two-thousand-year-old Ricardo Sanchez, vampire and rogue pilot of the space cruiser, El Cazador, can't resist two things: gorgeous women and impossible jobs. When beautiful Skylar Rossaria approaches him to break a prisoner out of the Collective's maximum security prison on Trakis One, Rico jumps at the chance. Being hunted by the Collective has never been so dangerous–or so fun!
Review
A sexy, good-looking, adventurous vampire called
Ricardo
is the main character of this amazing book that
makes your imagination works quickly and with pleasure to be a part of the crew of the space cruiser
, "
El cazador
", in which Ricardo is a pilot.
I love the writen style of Nina Croft,
this is the first book that I read from her and I was amazed at the letters. I could read without problems and
it was a pleasure to fell in her created universe
.
She present our characters with a clear and precise description and
there are not so many
of them so know everyone is a easy task and not a confused thing.
On the one hand we have Tannis, the captain of El cazador that was genetically modified, and her crew Ricardo,
Al, Daisy, Janey and Trog
.
On the other hand it shows us
Skylar
a beautiful woman with some secrets that wants to contract the crew to break a prisoner from a maximum security prison.
Despite the
lack of action
the novel is
full of feelings and sexual thoughts and acts
that will make you want to know more about the characters.Also you can
have fun with some situations
.
I would like to know more about the Collective and the church.
How will finish the struggle for the immortality
?
How many missions will have our womanizer
?
Folklore has it that the fourth finger of the left hand has a vein leading directly to the heart.The ring was supposed to symbolize eternal love.